Market Report: December 2017
We've compiled the data and analyzed the numbers for your December 2017 Jacksonville Market Report. Data in the report is based on the most recent information in the regional Multiple Listing Service. Questions? Reach out to our staff at the Jacksonville branch, 904-257-1201
Median Home Prices
The median price of homes continues to rise on a national level, increased year over year by 7% from November 2016. In the Jacksonville area, the median list price for homes at the end of December came in at $230,000, compared to $207,500 at the end of December 2016, an increase of 10%.  The increase in home values is in keeping with much of the rest of the country's markets.
Sales Trends
Home sales in Jacksonville for November 2017 were up 6% over the previous month, and up 37% compared to a year ago, with inventory increasing slightly – 1%. With a seller's advantage, home sales are still strong and tight inventory is keeping it that way.
Foreclosure Trends
U.S. foreclosure activity in the third quarter was 31% below the pre-recession average. Jacksonville is experiencing an interesting trend in foreclosure filings – they are seeing an increase over the national average. The Florida Association of Realtors estimates the uptick is due to the recent hurricanes in the area. Many lenders offered grace periods, but the measures were not enough to prevent foreclosure.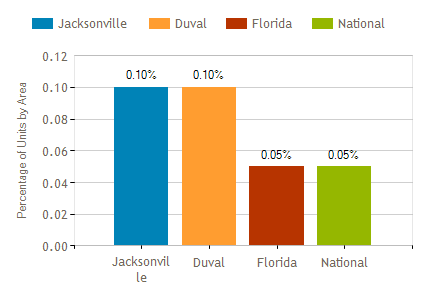 Edward Huletz, owner and principal broker: "Jacksonville is experiencing and uptick foreclosure filings due to the severe weather and subsequent damage it caused. If you're looking for investment properties, keep an eye on this market in the coming months. There will be more inventory on the market soon."
We're Ready
We specialize in the marketing and liquidation of REO assets, and we are ready for one or a list of yours. We have local experts on our team to move tasks through the process efficiently and on-time. Let's talk today!