Market Report: December 2017
We're beginning to see January numbers trickling in, along with further analysis of December 2017 and year-end results. We've compiled and analyzed the data for your Houston Market Report. Data in the report is based on the most recent information in the Regional Multiple Listing Service. Questions? Reach out to our staff at the Houston branch, 832-210-9089.

Median Prices
The median price of homes continues to rise on a national level, a trend due in no small part to a tight market with low inventory. In the Houston area, the median sales price for single-family homes at the end of January came in at $229,900. This represents a 3.8% rise in the median – the highest ever for the month of January. In spite of the hurricane and it's aftermath, the Houston real estate market's prices have held up overall.
Sales Trends
Houston's inventory has remained unchanged from January 2017, with a 3.3 month supply. By the end of December 2017, Houston's sales record rose by 3.5% over the previous year, which was a record sales year as well. For January 2018, property sales of all types rose 8.9% over the previous year.
Foreclosure Trends
U.S. foreclosure activity as of December 2017 was 0.05%. For the same time period, the Houston area came in at 0.03%. According to the Houston Area Realtors Association, we could see a spike in foreclosure activity, especially for homeowners who weren't carrying flood insurance at the time of Hurricane Harvey. The foreclosures filings are predicted to rise monthly in the second half of the year. So, while this chart represents the present state of foreclosure activity in the Houston/Harris County market (as of January 2018), we will likely see these numbers adjust in the coming months.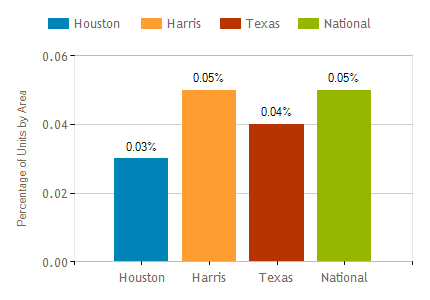 We're Ready
We specialize in the marketing and liquidation of REO assets, and we are ready for one or a list of yours. We have local experts on our team to move tasks through the process efficiently and on-time. Let's talk today!