Birmingham Market Report: January 2018
We're seeing January market numbers rolling in. We've compiled and analyzed the data for your Birmingham Market Report. Data in the report is based on the most recent information in the Regional Multiple Listing Service. Questions? Reach out to our staff at the Birmingham branch, 205-210-4407.

Median Prices
The median price of homes continues to rise on a national level, and are projected to increase by 4.8% nationally by January 2019. For Birmingham, that increase has been more modest, appreciating at a steady rate of 1.52% per year for the last five years. As of the end of January, the median sales price for all homes – single family and condos – was $185,000, slightly less than the national average of $187,000.
Sales Trends
Birmingham's market is stable, and in terms of inventory, signs indicate a slight seller's market. According to the Alabama Center for Real Estate, Birmingham currently has 6.3 months of housing supply, up from 4.5 months in December and down from seven months in January 2017. At the end of January 2018, sales were down from the previous month, and down 5.9% from the previous year (January 2017.)
Foreclosure Trends
U.S. foreclosure activity as of January 2018 was .05%. with Birmingham and the state of Alabama in line with the national average. For the same time period, Birmingham came in the same as the national average, however, Jefferson County's foreclosure number is slightly higher at .07%. According to RealtyTrac, at the end of January, the number of properties receiving a foreclosure filing in Birmingham was 9% lower than December 2017, and 7% lower than December 2016. Birmingham foreclosure discounts are significant: 56.4%.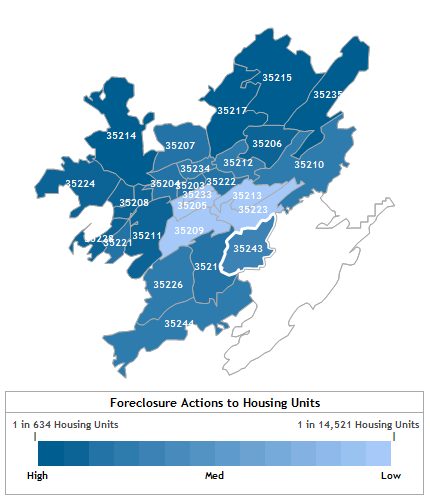 We're Ready
We specialize in the marketing and liquidation of REO assets, and we are ready for one or a list of yours. We have local experts on our team to move tasks through the process efficiently and on-time. Let's talk today!