March market numbers are rolling in, and we've taken a look at the numbers for your Virginia Beach Market Report. Data in the report is based on the most recent information in the Regional Multiple Listing Service. Questions? Reach out to our staff at the Virginia Beach branch, 757-986-1000.
Median Sales Price
The median sales price of homes continues to rise across markets throughout the country, and Virginia Beach is no exception. Virginia Beach's median sales prices are showing a steady upward climb. According to recent real estate data, the median sales price for Virginia Beach homes in March 2018 was $263,450, a 5% increase over March 2017.
Sales Trends
Reflecting the national market, Virginia Beach is experiencing a slight seller's advantage, with March numbers showing 1,576 active listings. The number of active listings has declined considerably over the previous year, with an estimated 2.5 month supply for March 2018, compared to a 4.1 month supply in March 2017. Days on market has also decreased from March 2017 by 5%, from 64 days to 61 days presently. Sales are moving faster in this market, and Virginia Beach is no exception.
Foreclosure Trends
U.S. foreclosure activity as of March 2018 was .06%, indicating a slight increase since the end of December 2017. Virginia Beach is slightly higher than the national average, at .07%. Interestingly, the state of Virginia's foreclosure rate overall is lower than both Virginia Beach and the national average, at .04%. According to RealtyTrac, there are approximately 501 properties in some stage of foreclosure, with foreclosed homes being sold with a 25% foreclosure discount. This is a 5.1% increase in the discounted sales price on foreclosure properties compared to February 2017.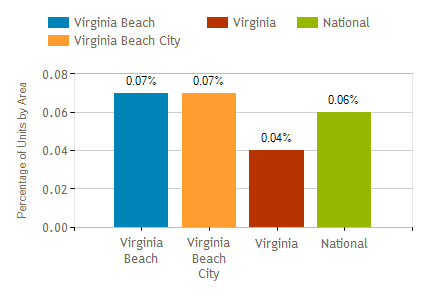 We're Ready
We specialize in the marketing and liquidation of REO assets, and we are ready for one or a list of yours. We have local experts on our team to move tasks through the process efficiently and on-time. Let's talk today!