We're still seeing March numbers along with April market numbers arriving, and we're taking a look at them for your Vermont Market Report. Data in the report is based on the most recent information in the Regional Multiple Listing Service. Questions? Reach out to our staff at the Vermont branch, 802-327-0300.
Median Sales Price
In March, the overall median sales price across all market segments in Vermont was up 10.5% over March 2017, at $216,575. Median sales prices were 97% of the median sales prices during the period ending March 2018, which indicates the home's selling prices very close to their listing prices.
Sales Trends
Reflecting other regions nationally, Vermont's single-family, condominium and townhome segments are experiencing a slight seller's advantage, with demand high and inventory low. As of March 2018, Vermont has 12.7 months if inventory, a 32% decrease over March 2017 across all market segments. The condominium market is showing a slight seller's market, slightly stronger than the single-family home market. According to the Vermont Association of Realtors, the market appears to have begun to cool, but prices have yet to adjust to this cooling trend. With recent increases in mortgage interest rates, expect this cooling trend to continue.
Foreclosure Trends
U.S. foreclosure activity as of April 2018 was .05%, which is a slight decrease since the winter months. The Vermont foreclosure rate is well below the national average, deviating from the national foreclosure numbers. According to RealtyTrac, the number of Vermont properties receiving a foreclosure filing in April was 7% lower than the previous month, and 17% higher than the same time the previous year.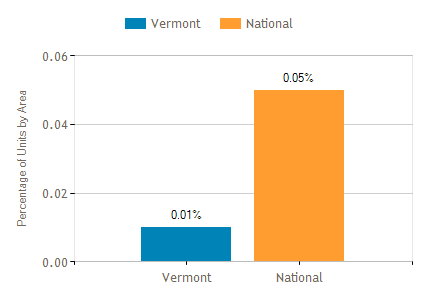 We're Ready
We specialize in the marketing and liquidation of REO assets, and we are ready for one or a list of yours. We have local experts on our team to move tasks through the process efficiently and on-time. Let's talk today!