May market numbers are coming in, and we're taking a look at them for your Spokane Market Report. Spokane is our newest market to join the Blue Dot family of offices, and we're thrilled to be a part of this thriving community. Data in the report is based on the most recent information in the Regional Multiple Listing Service. Questions? Reach out to our staff at our new Spokane branch, 509-204-2133.
Median Sales Price
In May, the overall median sales price of single-family homes in the Spokane region was up 15.5% over May 2017, at $240,000. However, according to the Spokane Association of Realtors, sales of single-family homes (including condos) were down 2.4% over the May 2017, reflecting a slight cooling trend in keeping with other markets around the country.
Sales Trends
Reflecting other regions nationally, Spokane's single-family market segment is experiencing a slight seller's advantage, with demand high and inventory low. As of May 2018, Spokane has 1.8 months of single-family home inventory, a 17.6% decrease over May 2017.
Foreclosure Trends
U.S. foreclosure activity as of May 2018 was .05%, which has held steady since February. The Spokane foreclosure rate is below the national average, at .03%, which is slightly above Washington State's at .02%. According to the Spokane Association of Realtors, distressed sales in the area are down – distressed sales accounted for 3.2% of sales in May 2018 compared to 5% in May 2017.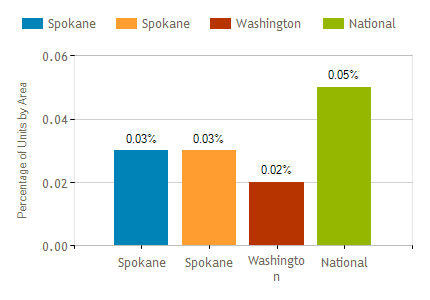 We're Ready
We specialize in the marketing and liquidation of REO assets, and we are ready for one or a list of yours. We have local experts on our team to move tasks through the process efficiently and on-time. Let's talk today!