April market numbers have arrived, we're taking a look at them for your South Carolina-Columbia Market Report. Data in the report is based on the most recent information in the Regional Multiple Listing Service. Questions? Reach out to our staff at the South Carolina-Columbia branch, 803-218-0202.
Median Sales Price
In April, the overall median sales price in South Carolina was up 5.4% to $195,000. State-wide, South Carolina single-family homes saw the largest price gain, showing an increase of 5.5% to $207,900 for the 12-month period of May 2017 through April 2018. Condominiums saw similar median sales price increases, showing a 4.5% increase over the previous year, with a median sales price of $150,000.
Sales Trends
Reflecting other regions nationally, South Carolina's single-family home segment is experiencing a slight seller's advantage, with demand high and inventory low. The condominium market is cooler, showing a slight seller's market as well, though not as strong as the single-family home market. According to the South Carolina Association of Realtors, inventory decreased across all market price ranges, with the largest decrease in supply occurring in the $100,000 to $150,000 range, as they tended to sell the quickest. Inventory is down -8.5% across all price ranges, and down -19.3% in the $100,000-$150,000 range. State-wide, inventory is currently 4.3 months of supply as of the end of April 2018.
Foreclosure Trends
U.S. foreclosure activity as of April 2018 was .05%, which is a slight decrease since the winter months. The South Carolina foreclosure rate is slightly higher than the national average, with the Central South Carolina region deviating from the national and state-wide numbers the most. Richland County foreclosure filings are at .11%, one of the highest in the state.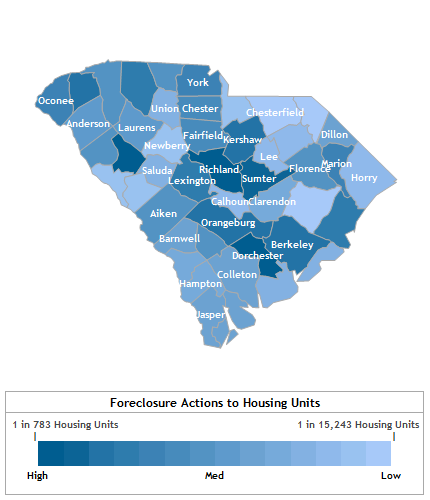 We're Ready
We specialize in the marketing and liquidation of REO assets, and we are ready for one or a list of yours. We have local experts on our team to move tasks through the process efficiently and on-time. Let's talk today!