This is our mid-year update for the Miami area housing market. With May market numbers steadily coming in, we're reviewing the Miami market and taking a fresh look. Data in the report is based on the most recent information in the Regional Multiple Listing Service. Questions? Reach out to our staff at our Miami branch, 305-434-4777
Median Sales Price
In May, the overall median sales price of single-family homes in Miami-Dade County was up 7.7%% over May 2017, at $350,000, compared to $325,000 the previous year. The condominium/townhome market saw similar increases in the median sales price: in May 2018 the median sale price was $245,000, an 8.9% increase over May 2017, when the median was $225,000. It's interesting to note, here that the median sales prices and the median percent of the original list prices are holding steady at 96%, so it seems the median sales prices aren't heavily discounted off the median list prices. Condos and townhomes percentages are at 93.3% of the median original list price.
Sales Trends
Miami's single-family market segment is experiencing a slight seller's advantage, with demand and inventory somewhat balanced, with conditions slightly favoring the buyer as far as inventory goes. As of May 2018, the Miami area has 6.0 months of single-family home inventory and has been steadily inching toward the buyer throughout the course of the last year. A balanced market is considered 5.5 months of inventory. In the condominium-townhouse market, we are seeing inventory more heavily tilted toward the buyer, with 14.1 months of inventory. The available condo-townhome inventory has steadily been climbing since May 2017.
Foreclosure Trends
U.S. foreclosure activity as of May 2018 was .05%, which has held steady since February. The Miami foreclosure rate is above the national average, at .07%, which is below slightly below the state's average at .08%. According to the RealtyTrac, the number of properties receiving a foreclosure filing as of May 2018 was 8% higher in May 2018 than the previous month but 30% lower than the same time last year in Miami-Dade County. The Miami Association of Realtor's data reports that the number of closed foreclosure/REO sales in May 2018 was 71, and the median sales price was $249,375. This is a 10.8% increase in median sale prices on foreclosure properties since May 2017. The condominium/townhouse foreclosure market saw 64 closed sales, with a median sales price of $168,750. This market segment has seen a sharp drop over the last year, with closed sales down -33.3% over May 2017.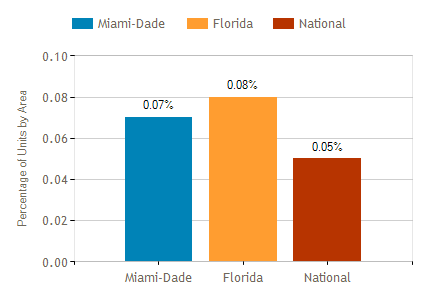 We're Ready
We specialize in the marketing and liquidation of REO assets, and we are ready for one or a list of yours. We have local experts on our team to move tasks through the process efficiently and on-time. Let's talk today!