This is our mid-year update on the Louisville area housing market. As May numbers wrap up and June numbers begin to roll in, we're seeing trends in inventory stabilization, rising home prices in the region and more. Data in the report is based on the most recent information in the Regional Multiple Listing Service. Questions? Reach out to our staff at our Louisville branch, 502-834-2001.
Median Sales Price
According to the Greater Louisville Association of Realtors, the median sales price of single-family homes and condos in the Greater Louisville area was up over the same time last year, at $194,500, versus $183,00 in June 2017, representing a 6.2% increase in median sales prices for the region over June 2017. Year-to-Date (Jan 1-Jun 30), the median selling price is up 4.47% over the same time period in 2017.
Sales Trends
Louisville's single-family and condo market segments are experiencing a slight seller's advantage, and homes are being purchased quickly – the average days on market for both single-family homes and condos has decreased steadily over the last few years, and as of June 2018 the average days on market stands at 37. The Louisville area's home sales are down slightly over June 2017, at -2.18%. The inventory picture is in keeping with many other markets across the country, with Louisville's available properties down 7.0% over June 2017. Lousiville's tight inventory situation with existing homes has spurred the double-digit growth of new construction sales, with 103 new homes sold in the Louisville area in June.
Foreclosure Trends
U.S. foreclosure activity in June 2018 has held steady at .05%, and the state's foreclosure activity for June is at .03%, below the national average. Interestingly, Jefferson County and Louisville foreclosure rates are above the national average, at .07%.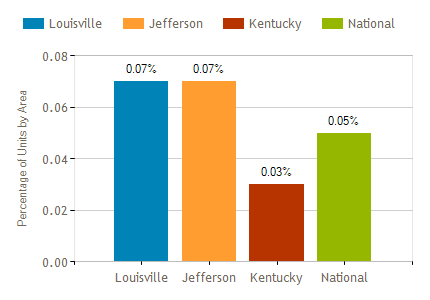 We're Ready
We specialize in the marketing and liquidation of REO assets, and we are ready for one or a list of yours. We have local experts on our team to move tasks through the process efficiently and on-time. Let's talk today!