We've prepped our mid-year update on the Houston-area housing market. June numbers are in and the Houston market's sales are robust, breaking sales records across all property types. Data in the report is based on the most recent information in the Regional Multiple Listing Service. Questions? Reach out to our staff at our Houston branch, 832-210-9089.
Median Sales Price
According to Houston Area Realtors (HAR), the median sales price for single-family homes in the Houston area for June 2018 was $245,000, versus $238,890 in June 2017, a 2.6% increase in median sales price. The condominium market segment saw a rebound over May when sales fell 7.2%. However, the median sales price of condominiums/townhomes dropped 4.1% to $463,000
Sales Trends
The Houston market is experiencing a slight seller's advantage in both the single-family and condominium market segments. Inventory for June was 4.1 months of supply, the highest level since August 2017 when inventory reached 4.3 months. Nationally, the inventory picture is in-line with the Houston market, at 4.1 months. Days on market decreased from 50 to 48 days over June 2017. Home sales of all property types in the Houston market have broken records – sales volume increased 1.7% over the same time period in 2017.
Foreclosure Trends
U.S. foreclosure activity in June 2018 increased to .06%, and the state's foreclosure activity for June is slightly lower, at .05%. The Houston foreclosure rates are lower than the state's average at .05%. Harris County is bucking the lower foreclosure numbers at .08%.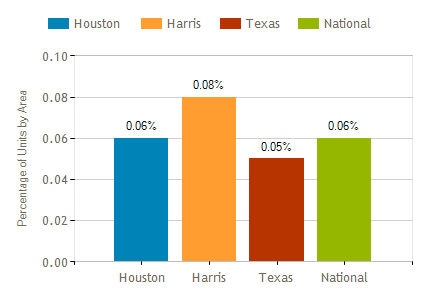 We're Ready
We specialize in the marketing and liquidation of REO assets, and we are ready for one or a list of yours. We have local experts on our team to move tasks through the process efficiently and on-time. Let's talk today!