March market numbers are in, and we've taken a look at them for your Greater Tampa Market Report. Data in the report is based on the most recent information in the Regional Multiple Listing Service. Questions? Reach out to our staff at the Tampa branch, 813-751-2779
Median Sales Price
The median sales price of single-family homes continues to rise across markets throughout the country, and the Tampa area is no exception. Hillsborough County median sales prices are showing a steady upward climb. According to recent real estate data, the median sales price for a Hillsborough County single-family home in March 2018 was $242,515, a 5.4% increase over March 2017. For Condominiums and townhomes, the median sales price for March 2018 was $163,949, a 6.1% increase over March 2017. The manufactured home market is following a similar pattern, with the median sales price in March 2018 at $95,000, an 11.8% increase over March 2017.
Sales Trends
Reflecting other regions nationally, Greater Tampa is experiencing a solid seller's market, with current supply and demand levels showing no signs of changing direction anytime soon. Please note: active listings reflected in this sales trend analysis paragraph include single family homes only. According to the Greater Tampa Association of Realtors, there is an estimated 2.2 month supply of as of March 2018, compared to a 2.7 month supply in March 2017. Days on market has been steady, the with the median coming in at 33 days – same as March 2017. The median time to sale, however, has decreased slightly, from 78 days in March 2017 to 77 days in March 2018, a 1.3% decrease.
Foreclosure Trends
U.S. foreclosure activity as of March 2018 was .06% indicating a slight increase since the end of December 2017. Tampa's current foreclosure numbers for single-family homes are significantly lower than the previous year – closed Foreclosure/REO sales for March 2018 came in at 40, compared to 97 in March 2017, reflecting the tightening of the market for traditional home sales as well. Inventory is down and prices have decreased on single-family home foreclosures  – median sales price for detached single-family REO properties fell from $175,000 in March 2017 to $157,500 in March 2018, a 10%% decrease. Foreclosure data on condominiums and townhomes show a similar trend, with median sales prices for REO properties falling from $107,000 in March 2017 to $75,775 in March 2018, a 29.0% decrease. However, when we look at the manufactured home REO data, these sales are following a different trend. Sales of distressed manufactured homes increased slightly from 15 in March 2017, to 17 in March 2018. The median sales price also increased, from $48,000 in March 2017 to $57,000 in March 2018, an 18.8% increase.
Interestingly, Hillsborough County's foreclosure rate is higher than both Tampa and the state of Florida, but all are slightly higher than the national average of .06 %.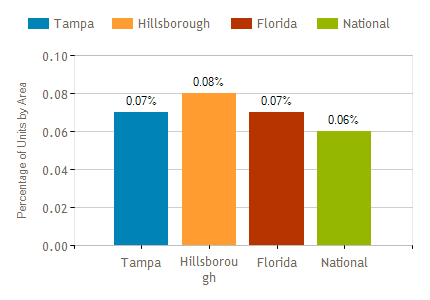 We're Ready
We specialize in the marketing and liquidation of REO assets, and we are ready for one or a list of yours. We have local experts on our team to move tasks through the process efficiently and on-time. Let's talk today!