Wrapping up our February market numbers, we've compiled and analyzed the data for your Fort Myers Market Report. Data in the report is based on the most recent information in the Regional Multiple Listing Service. Questions? Reach out to our staff at the Fort Myers branch, 239-319-2700.
Median Prices
The median sales price of homes continues to rise, with some markets seeing large jumps. Nationally home prices are projected to increase by 4.8% by January 2019. Fort Myers' median prices are showing similar jumps, and according to recent real estate data, the median sales price for Fort Myers homes in February 2018 was $250,223, a increase of 2.1% over February 2017.
Sales Trends
Reflecting the national market, Fort Myers is showing a slight seller's advantage, with February numbers showing 6,282 active listings. This number represents the most inventory on the market since February 2017, with the Royal Palm Court Realtor Association reporting a six-month sales inventory for the area. Tighter inventory continutes to be the most influential factor in home prices. With inventory low, pricing pressure goes up on the homes currently for sale. While the market slightly favoring the seller, buyers are still seeking homes and competition is robust.
Foreclosure Trends
U.S. foreclosure activity as of February 2018 was .06%, indicating a slight increase since the end of December 2017.  Fort Myers is on par with the national average, at .06%. Lee County and the state of Florida are slightly higher, at .07%.  According to the Royal Palm Court Realtor Association, February's Foreclosure/REO closed sales came in at 24 housing units, with a medican sales price of $155,000. The sales price on foreclosure properties has gone down -9.5% compared to February 2017.
According to RealtyTrac, at the end of February 2018, the number of properties in some stage of foreclosure in Fort Myers was 608.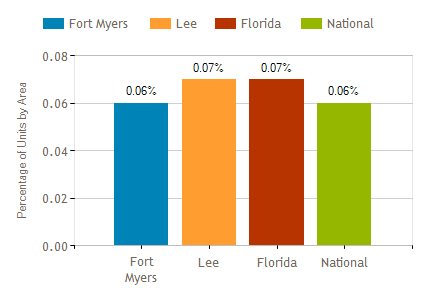 We're Ready
We specialize in the marketing and liquidation of REO assets, and we are ready for one or a list of yours. We have local experts on our team to move tasks through the process efficiently and on-time. Let's talk today!